To date I have written five books. They are all published by Adams Media and available from Amazon.com and Barnes & Noble stores as well as their website.
The Everything New Nurse Book     

The Everything New Nurse Book 2nd Edition 

150 Tips and Tricks for New Nurses 

The Everything Guide to Careers in Health Care

The Everything Guide to Caring for Aging Parents
I also contributed a chapter entitled "Rants and Raves" to an anthology from Kaplan Publishing. The anthology, Reflections on Doctors, was published in September 2008. 

You can purchase these books from AMAZON.com  (click on the book images) 
or Barnes & Noble 
_____________________________________________
AUTOGRAPHED COPIES in limited supply….

If you would like an autographed copy of my books, you can purchase them directly from me through PayPal

Use the Buy Now Button in the Sidebar at the Left to purchase the Book you want. 

__________________________________________________
The Everything Guide to Caring for Aging Parents Book 
The population is growing and aging rapidly. Baby boomers have begun to turn 60 and face dealing with caring for their parents as well as children and grandchildren. 
If you're wondering about how you're going to cope with this situation, it's time to sit down and make some plans. This book will guide you through the process from Defining the Situation to dealing with Death and Grief as well as how to put plans in motion to focus on your own care as you age.
Kathy has been a home health care nurse for over 30 years. She has taken her professional and person experiences to help provide information and education about how to make the best out of this journey. ALso available in Kindle.
Read the great review by Lisa C. DeLuca at Suite101.com
The Everything New Nurse Book 
Before you embark on a career in nursing, it's important to understand the art of caring and the definition of altruism. Nursing is NOT for everyone.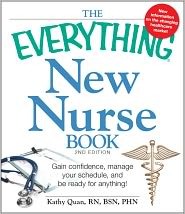 This book gives the reader an honest look at a little bit of everything it takes to become a nurse, including how and where to get your education, how to finance it, how to survive nursing school, as well as how to gain confidence and survive your first year as a nurse. 
Nursing is one of the most challenging professions; both emotionally and physically, but it is also one of the most rewarding. This book is designed to help you understand your role as a new nurse and how to take care of yourself so you can enjoy a long and exciting career.
The second edition is now available. . 
150 Tips and Tricks for New Nurses
This book is a repurpose of The Everything New Nurse Book into quick, simple Tips and Tricks to help new nurses ease into their role, gain confidence, and provide excellent quality care for their patients while enjoying one of the most rewarding professions. ALso available in Kindle. 
 The Everything Guide to Careers in Health Care
Not so long ago, careers in health care were limited. For women they were even more limited.
Today, however, with a shift of emphasis from goods to services, health care is the fastest growing segment of the job market. In the present faltering economy, health care offers some of the most recession-proof opportunities.
There are literally hundreds of career options in health care. This book takes a look at over 60 of the major options including the education needed, the job outlook for the next decade, the work environment, the salary possibilities and the options for advancement in the field.
It also offers insight into the characteristics and unique skills that are needed for these professions and the role and responsibilities of health care professionals. There is advice on self-assessment and how to choose a health care career option, how to get the education necessary, where and how to find your first job, and how to care for yourself so you can continue to help others.